03 Nov

BBQ VEGETABLE KEBABS & QUINOA SALAD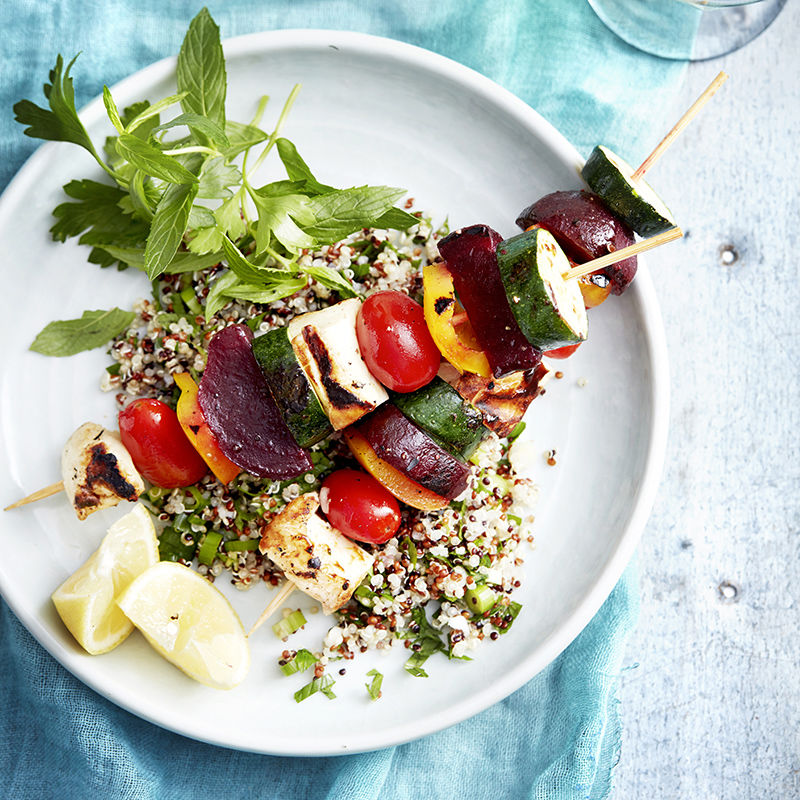 Kebabs
1 punnet of large cherry tomatoes

1 red onion, cut into 2cm chunks

2 medium zucchinis, sliced ½ cm in thickness

8 Button mushrooms  

1 capsicum cut into 2 cm chunks 

250g Halloumi cheese, cut into 2cm pieces 

½ cup BBQ sauce

8 skewers

(if using wooden ones, soak them in water for 30mins before using) 
Salad
1 cup tri colour quinoa (all white is also fine) 

250g mixed salad leaves 

1 bunch of continental parsley, roughly chopped

100g Danish feta, crumbled

Small handful of Pumpkin Seeds or chopped nuts (like walnuts or roasted almonds)

Balsamic Dressing – serve on the side
Prepare quinoa as per packet instructions (I like to use a little bit of vegetable stock powder in the water to boost the flavour) 
Meanwhile thread vegetables onto pre-soaked skewers
Heat a greased barbie grill or chargrill pan over high heat. Cook skewers, turning and brushing with BBQ sauce, for 8 mins, or until tender and starting to char. 
Place all salad ingredients in a bowl, mix gently to combine.
Add salad dressing to individual portions 
TIP – If you don't think all of the salad is going to be used, don't dress the whole thing, serve the dressing on the side. This way the salad doesn't go soggy and Leftover Salad can be used for lunches the following day!
XMAS GIFT IDEA…
HOMEMADE BBQ SAUCE 
INGREDIENTS
1 1/2 cup tomato sauce

1 cup packed brown sugar

1/2 cup water

1/4 cup apple cider vinegar

1 tbsp Worcestershire sauce

1 tbsp honey

1 tsp salt

1/2 tsp garlic powder

1/2 tsp onion powder

1/4 tsp ground mustard

1/4 tsp paprika
DIRECTIONS
In a medium saucepan over medium-high heat, whisk all ingredients until combined.
Bring mixture to a boil, then reduce heat and simmer, stirring occasionally, until thick, about 45 minutes.
Let cool to room temperature and store refrigerated in an airtight container.