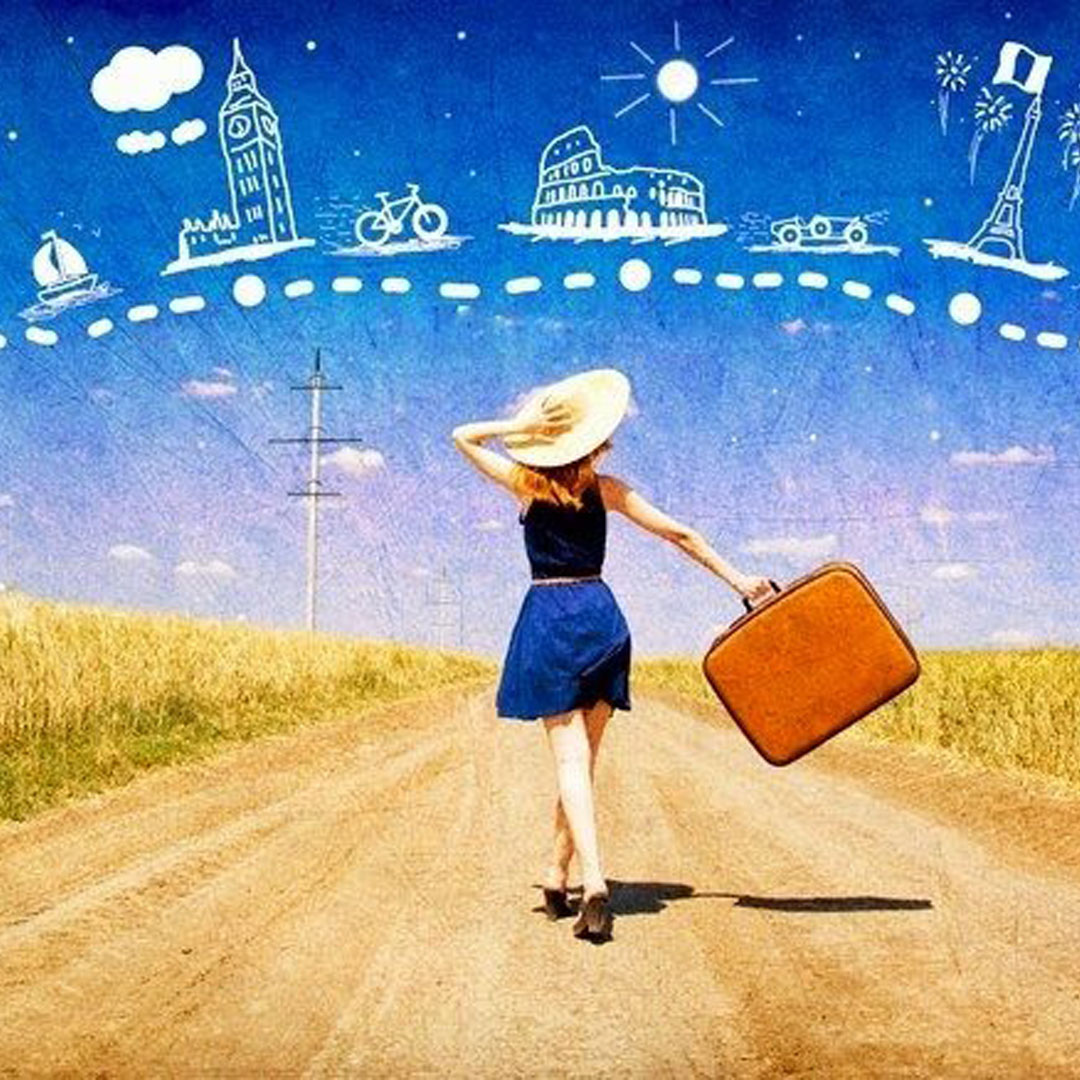 18 May

Top Tips On How To Stay Healthy While Travelling

Top Tips On How To Stay Healthy While Travelling

Whether it's for work or pleasure, just because you're travelling, doesn't mean all your healthy habits have to be left at home. A little planning and the best intentions to stay healthy is a great way to start any trip. Routines will go out the window, but it doesn't mean you can't still do the things you do at home, just in a different order, so stay open minded and be flexible.

Airports are usually the first place healthy habits start to go downhill…

Don't let your early morning flight be an excuse for a chocolate filled croissant and 3 cups of coffee before 7am. Prepare and pack your food the night before. Aside from saving $$ at the airport, you know you have nutritious food that will help keep you feeling energised and mentally sharp instead of sluggish and yuck.

Roast sweet potato is my go to but consider things like: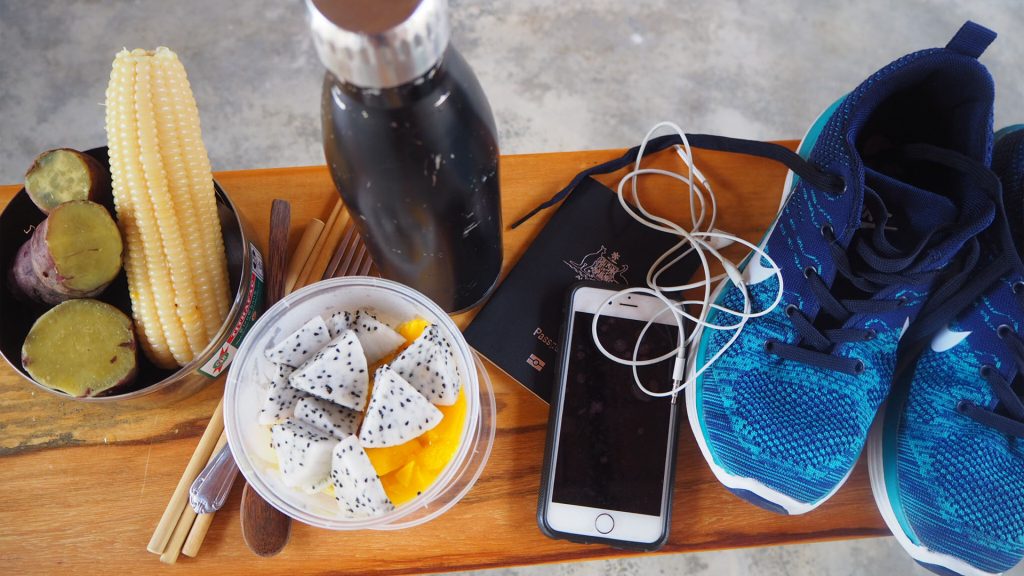 Be prepared…
If you do have to eat at the airport, keep your meals light and go for things like salads with lots of vegetables and fruit. Avoid deep fried foods and processed sweets like cake and biscuits.
Long haul flights are a great time to fast and drink lots of water to stay hydrated.
What are the top 3 things that you do that make you feel good? Plan your travels around things you like to do. Do your research on yoga studios, national parks, surf beaches etc. on areas you plan to visit and plan your itinerary, so you can stay active and have fun at the same time.
If you're travelling within your own country, consider getting a gym membership that gives you access to all clubs across the country.
Book accommodation close to things you do regularly at home. For example, a swimming centre, a gym, a park for walking and running, or a yoga studio. If you are staying for longer than a few days, ask about a week pass, if you pay upfront you will be more inclined to go every day.
Book accommodation with a kitchen/kitchenette. Not only will you save money, but you can easily put together a simple healthy meal. If you have the space in your luggage and you're travelling to one place, consider taking your little smoothie processor. Smoothies and smoothie bowls are quick, easy and healthy options.
Canned beans, corn, microwave rice and frozen veg and eggs make a quick and easy meal you can prepare in the morning to take with you for the day and they are fast to prepare for dinner after a full day out and about.
Taking just a few things from home will make it easier to prepare and take food with you when you are on the go and save on all the waste from buying takeaway meals.
Reusable 500ml or 1 litre drink bottle – airports have filtered drinking water you can fill it up with and your accommodation should also supply free drinking water (avoid single use plastic water bottle whenever possible)
Going to local markets is fun and a great place to get the local food and fresh fruit and veg that is in season, which is always the best. Having a fridge at your accommodation means you can buy extra and have food at home.
Trying new foods and local dishes is all part of the experience – tapas in Spain, croissants in Paris, fresh pasta in Italy, pho in Vietnam YUM! Be mindful when choosing the local specialties and make them memorable, don't just eat whatever, whenever.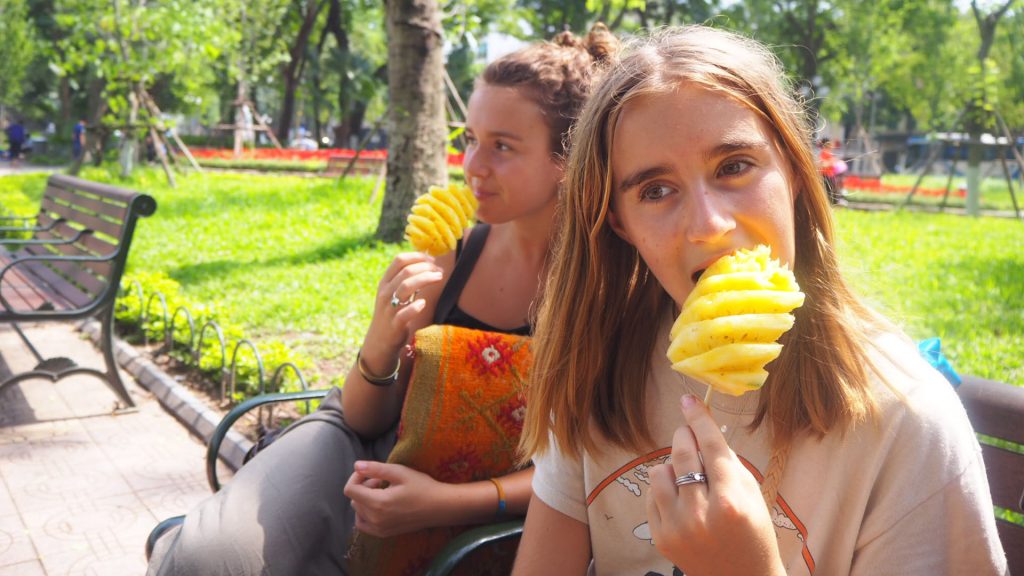 Fresh fruit makes a great on the go option.
Try and stick to your food rules as much as possible. If you don't eat after 7pm, drink alcohol 3 nights a week or always eat sitting down, keep it going while you are on the road.
Let it go – chances are you're not going to be able to find organic, dark rye, sourdough bread everywhere you go… let it go! Follow the 80/20 rule and take the healthiest option that's available.
It's a good idea to have a substantial breakfast when you're travelling. Beware – breakfast buffets can be your best friend or worst enemy…
Do eat: eggs, a veggie omelet, fresh fruit and veggies, and try the local specialties if on offer.
Avoid: deep fried foods, fruit juice, sugary cereals, pastries, muffins and sweet yoghurts in tubs.
Not finding the time for your 45 minute sweat session or 1 hour yoga practice that you do at home? Don't stress…10 minute workouts or yoga flows are a great way to keep your fitness and mental clarity while on holidays and business trips. You don't need a lot of space, in fact you don't even have to leave your hotel room.
Try this holiday/hotel room workout!
Mix workouts with sightseeing. Find active tours like local biking and walking tours, it's a great way to see the area. Visit national parks and take the stairs wherever possible, the view is ALWAYS worth it!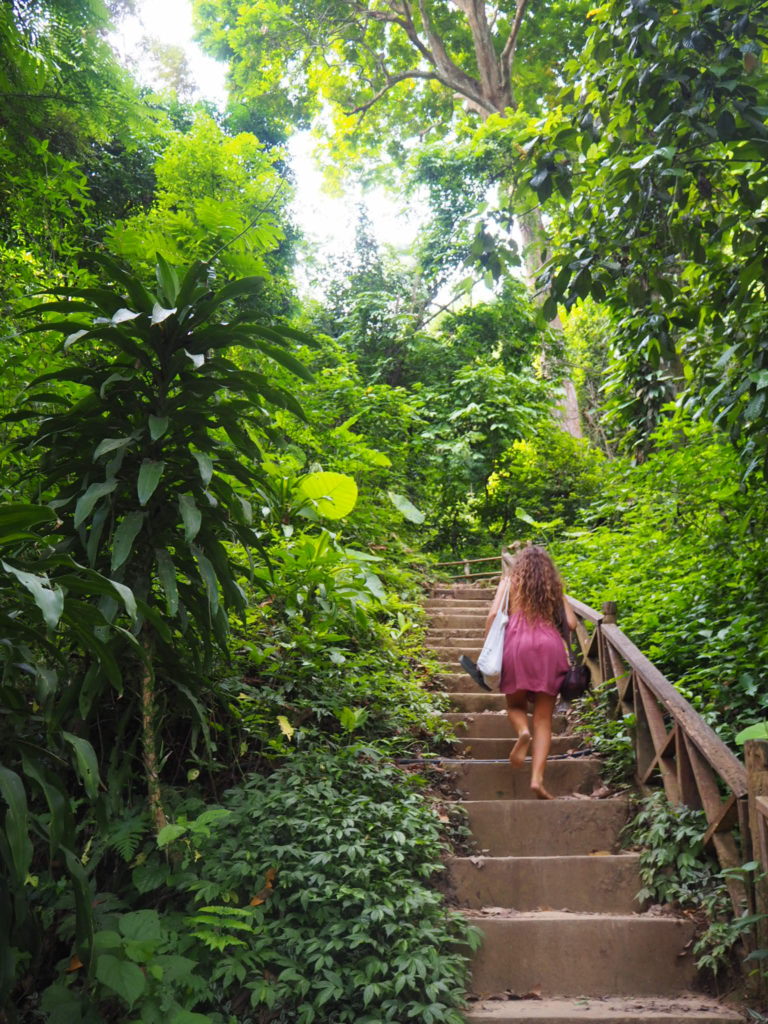 Take the stairs…
Pack things from home that will help you keep your regular activities easy to do while travelling. For example, I always pack my travel yoga mat because I know that not having a mat with me is a barrier for regular practice when I'm travelling.
Get your rest – I find I'm so tired at the end of the day from all the sightseeing and travelling that getting to bed at a reasonable hour is never a problem for me. Try and keep a regular sleep pattern as much as possible while you are on holidays, it makes it easier to get back into routine when you get home.
Plan ahead – set a basic itinerary before you go and a daily budget. Knowing where you are going next, where you are staying & how you are getting there will help keep stress and anxiety levels down while you are on the road. Taking the time to read up about the country's culture and how they do things can also help avoid misunderstandings and stressful situations e.g. they are probably not yelling at you to be rude, rather than just trying to get your attention and help you, which is good to know when you arrive in a new place and you don't know what's going on!
Be realistic –  sometimes things don't go to plan or you change your mind, be open to changes in plans focus on what is happening rather than focusing on what 'should' have happened. Don't beat yourself up if you sleep through your alarm and miss the boat to see the attraction – listen to your body.
Enjoy some slow travel – make time in your itinerary to slow down, take it all in and make memories. If your Itinerary is too full, you will miss all the little things.
Some other ways to help keep your stress levels down while travelling might be:
Keep the gratitude flowing. Get out of your comfort zone and keep asking yourself what I can learn about each place you visit and what do I want to experience.