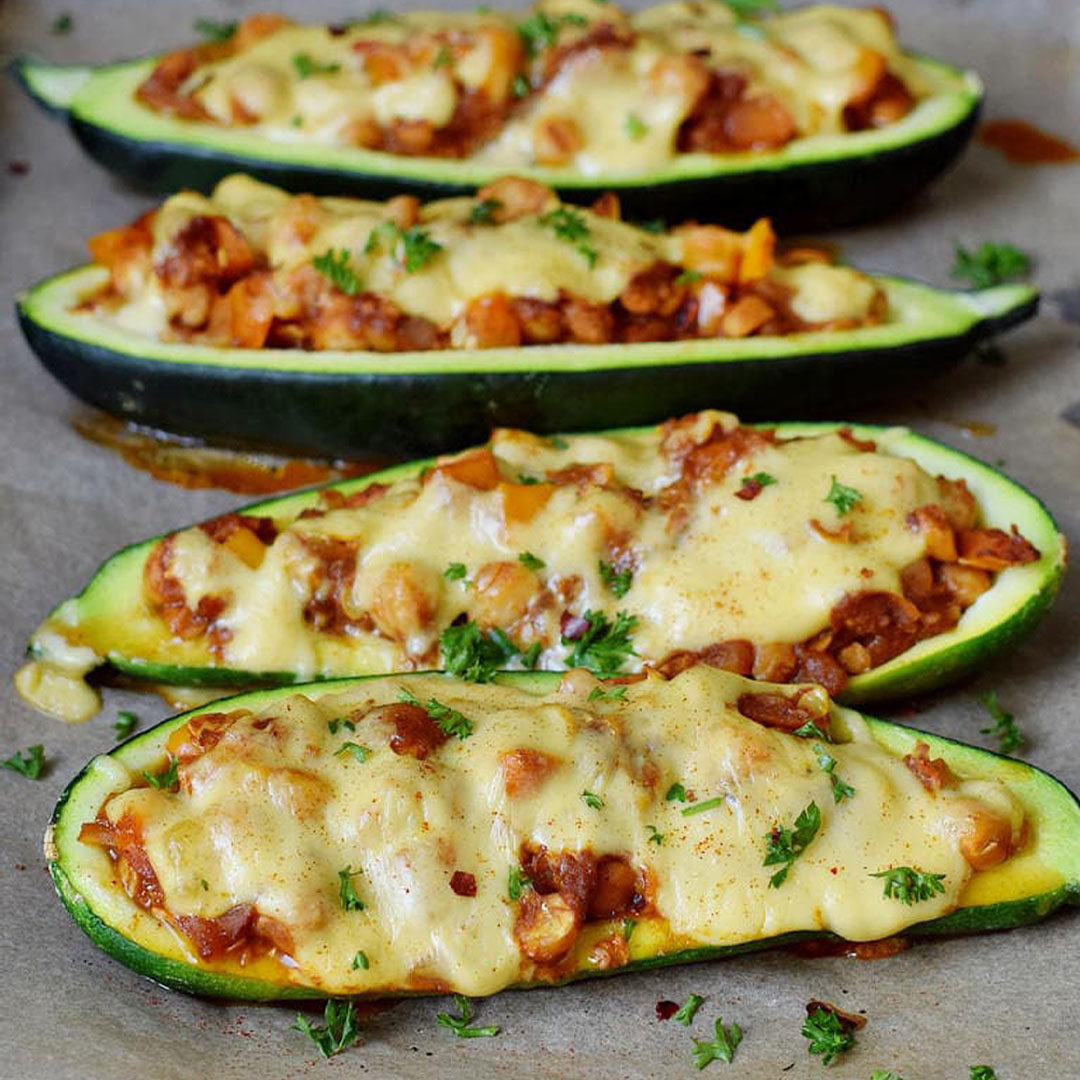 01 Oct

Quinoa & Veg Stuffed Zucchini

Quinoa & Veg Stuffed Zucchini

I love making this one as part of a BBQ dinner, it's a great crowd pleaser and easy to prepare ahead, meaning you can spend time with your guests and not in the kitchen!

A good one to keep in mind as we come into zucchini season and they get cheaper and tastier! You can also stuff eggplant, capsicum, pumpkin and the humble spud (just pre-cook the potatoes & pumpkin before scooping out the flesh 🙂

This also makes a healthy alternative to your favourite nacho combo... go crazy!

Heat a fry pan over medium high heat, add the olive oil, onion and capsicum. Reduce the heat to medium and sauté just until the onion softens a bit.

While you wait for the onions to soften, scoop just a bit of each zucchini out with a round scoop (or use a round measuring spoon). Roughly chop the scooped bits up into small bits & put the zucchini aside.

Add the tomato, zucchini bits, thyme leaves and some salt and pepper to the pan. Continue to sauté for another couple of minutes. Add the spinach and stir until the spinach wilts down.

Remove the pan from the heat and add the cooked quinoa and sprinkle with some fresh basil leaves. Add the parmesan if using.

Stir to combine and set aside.

Preheat your oven to 180 degrees.

Line a baking sheet with foil or baking paper for an easy clean up. Arrange the zucchini on the sheet. Using a small spoon (I use a regular teaspoon) divide the mixture between all of the zucchini. Cover the baking sheet with foil. You can refrigerate at this point up to a couple of days if you'd like to serve it later. Otherwise, place the sheet in the oven and bake for 30 minutes, covered.

After 30 minutes, uncover and top each zucchini with some mozzarella. Place the sheet back in the oven and bake for another 10 minutes. If you'd like a browner top, raise the rack in the oven to the highest spot.

Remove from the oven and serve.

Use up any leftover herbs you have in the fridge, any combo will work with this one.

Either use any leftover quinoa or cook extra and keep it in the fridge so you have some ready for quick meals. I love having cooked quinoa in the fridge. Use it as breakfast with vanilla, almond milk and some fruit, warm it up and top it with an egg or add it to some sautéed veggies as a great side dish with dinner or for lunch! Quinoa is pretty awesome!

Always rinse quinoa in a fine mesh sieve before cooking. That removes the saponins, a powdery coating that can cause a bitter taste.

I cover the zucchini with foil while baking because if you don't, the quinoa will get a bit crunchy.

Kids don't like capsicum and quinoa? What about carrot and brown rice? You can use whatever veggies you have in the fridge!

To keep this vegan, eliminate the Parmesan and mozzarella. Use vegan substitutes if you'd like.