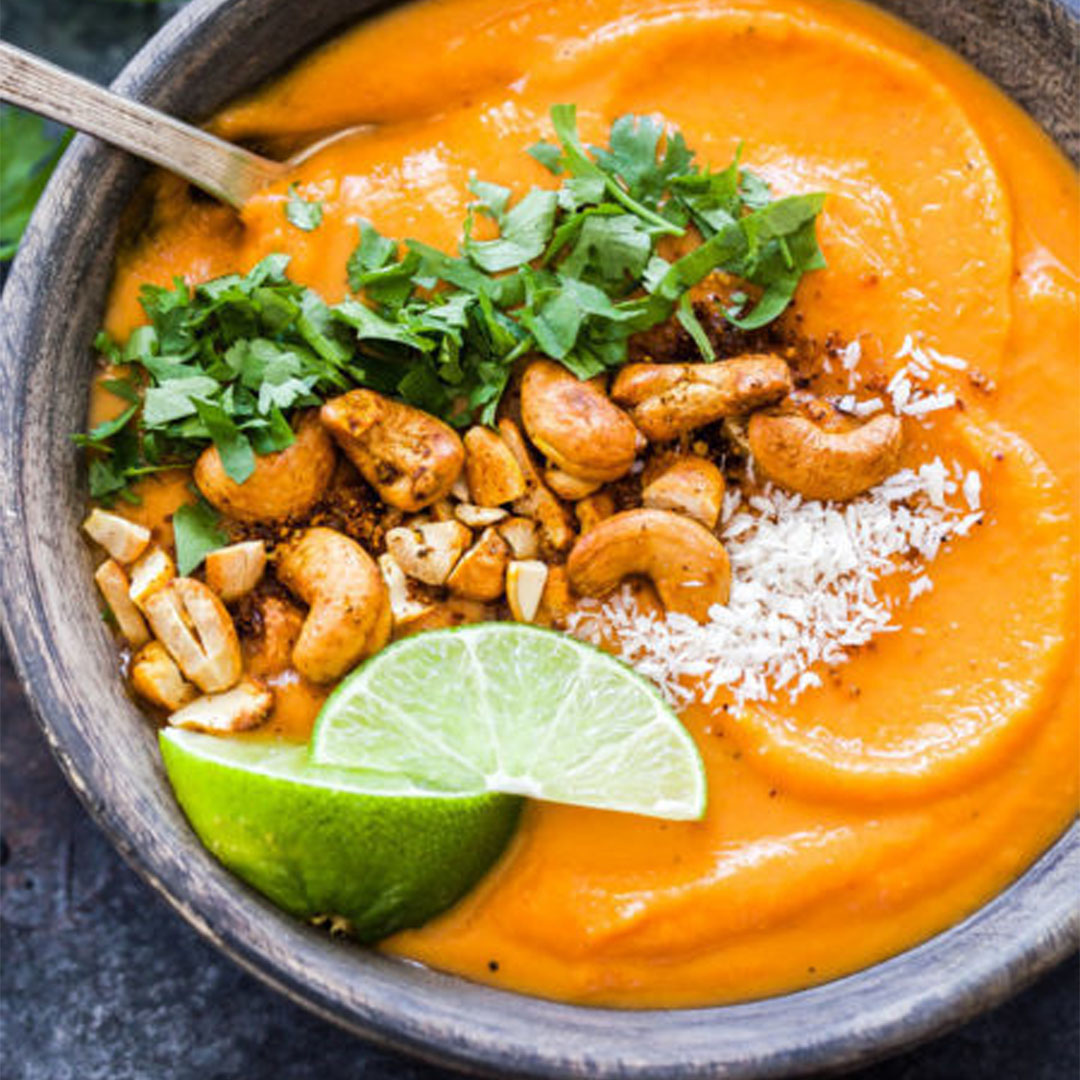 02 Jul

Thai Sweet Potato Soup

Curry Roasted Cashews & Sweet Potato Chunks

Preheat your oven to 180°C and line a baking tray with baking paper.

In a small bowl stir together the coconut oil, curry powder and red curry paste until combined.

Toss the cashews & sweet potato in the curry mix until coated. Season with salt and pepper.

Spread them onto the prepared baking tray and roast for 8 - 12 minutes or until they are golden brown. Keep an eye on them as nuts tend to burn quickly.

Thai Sweet Potato Carrot Soup

Heat the oil in a large pot over medium heat. Add in the onion and sauté 3 - 4 minutes. Add in the ginger, red curry paste and sauté another 1 - 2 minutes.

Add in the sweet potatoes and carrots and season with salt and pepper. Stir everything together then pour in the vegetable stock.

Bring the mixture to a boil then reduce the heat to low and let it simmer for 20 - 25 minutes or until vegetables are soft.

Turn off the heat and use a stick blender* to purée the soup. Stir in the coconut cream and taste for seasoning. Add water to get desired consistency.

Serve the soup topped with the chopped curry roasted cashews & sweet potato chunks, coriander, shredded coconut and lime wedges. 

*If you don't have a stick blender, ladle the soup into a blender. It will probably be a couple of batches, depending on the size of your blender, don't fill the blender more than half way. Leave the lid slightly ajar to allow steam to escape, blend on low and slowly increase the speed until the soup is completely smooth.

Don't like sweet potato? You could swap it out for pumpkin.